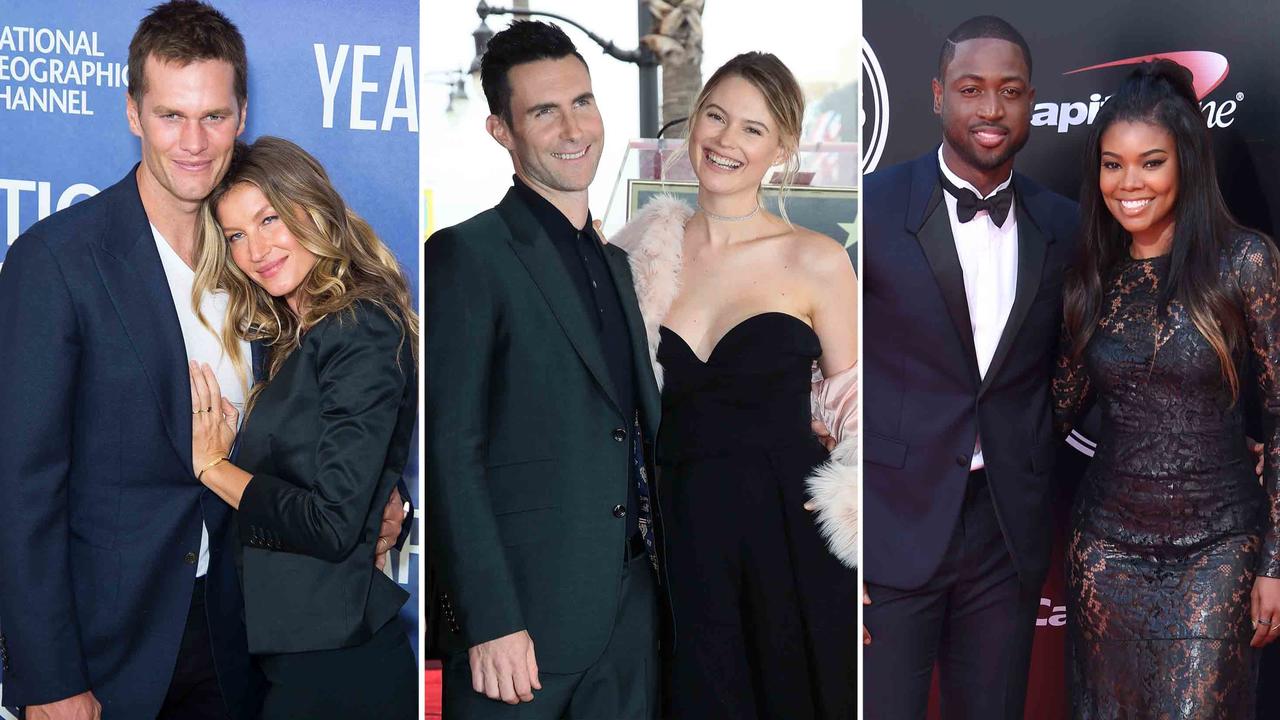 From Mila and Ashton to Jenna and Channing, a lot of our favorite celebrity couples like to break a sweat together. We've rounded up fitness moments from famously fit?duos which means you and your honey can follow their lead.
Mila and Ashton hit the trails?together. Ashton posted this sweet pic of Mila striding along a dirt road during a hike.
Don't worry guys. I'll keep him ready. #Brady'scamp #IwillwhatIwant ?????? N?o se preocupem. Ele vai estar preparado.
This couple is seriously focused on staying fit.?The supermodel and champion quarterback do?all sorts of workouts, including, obviously, playing football within the?backyard.
Love & Basketball drills… Follow me on snapchat gabunionwade ?????????
Even if they are not exercising together, Gabrielle Union is clearly inspired by her basketball star husband's moves-so much, she's got them down pat.
Back in internet marketing again with @hankslifestyle ! ????
Whenever you got caught right before a panna ?? ?
The supermodel and DJ not just sweat?together, they take cute bike rides and play soccer around the beach using their adorable kids.
Snow, love and lots of happy dogs for all of us this ??day! Love u all! Check them out what a great family http://www.whosay.com/l/ADqaabk
"To love someone deeply gives you strength. Being loved by someone deeply gives you courage." – Lao Tzu HAPPY BIRTHDAY TO MY LIFER ??????
Jenna and Channing co-starred in the dance movie Step Up?10?years back, therefore it is no wonder that they like to remain active as a couple.
Kinda have a thing in my trainer ????
The couple that planks together, stays together. The model captioned her?post:?"Kinda have a thing in my trainer."
I just read & value your comments. I block only when someone is mean–it's way too exhausting to read hate. Never silence an opinion that is respectfully stated. Having differing opinions is normal, important, and a part of our incredible democracy. Looking at the numbers following this election, I think we can all agree that we're incredibly divided. Which is our greatest problem. Life, liberty and the pursuit of happiness should be for all…not only a drop over half…whether that be during Clinton, Bush, Obama, Trump…or other administration. Whether in the happy camp or unhappy camp, I've learned over the past week this great divide should make all of us unhappy. If we are truly united, we ought to value everyone's wellbeing and joy. We're never going to agree all the time, but a minimum of we can try respectfully. We have to be the "United People of America" not just the "Usa of America". The only method I believe this could get better is thru improved communication and getting to know one another better. I've received many comments from Trump supporters about how "liberals should get to understand us". You know what? They're right. I wish to get to know them, I wish to get to know you. So we aren't a "them" & an "us", but we result in a strong, united "WE". I realize that because of my instagram following, I have a voice that many others don't have. I want to dedicate this informative article to giving these folks a voice to PEACEFULLY express who they are in the comments section. Who're you? And what do you want? Exactly what do you value? What do you want to determine out of this next administration? Where have you not be heard and taken proper care of? We have to be all in this together. We are all made of exactly the same flesh and blood. We are not opposing sports teams & this isn't about winning and losing….we're citizens of the same country. In my previous posts I have expressed concern. I'm permitted to feel and have concerns. I'm a parent, a citizen, a human being. But I want to know what you think too-because I don't matter a lot more than you. No one does. So please: I dedicate here to you so you can be heard and valued. Kindness is the one rule-whether you are on the right or even the left
Well, at least one of them is?obtaining a workout here!